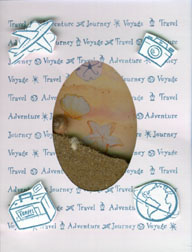 Stamper: Ingrid Yadao

Stamp credits: Word Print and travel stamps from Hero Arts. Seashell background from ?

Notes: the shaker material in this card is sand and tiny sea shells. There is a matching blue ribbon around all the edges of the card (not pictured) to hide the foam core.