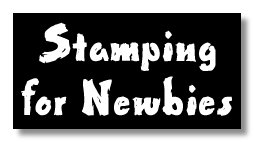 I'm always looking for more ideas for the newbies. If you have something to contribute please email me. Proper credit will be given, of course.
Embossing Basics
To emboss you will need pigment ink (which is a heavy ink and takes a long time to dry), embossing powder (which comes in hundreds of colors), and embossing tool (AKA heat gun) and a stamp. Embossing can be done on either matte or glossy paper. If you use pigment ink on glossy paper you must emboss it or it will smear (boy did I learn that the hard way).
Tap, tap, tap the ink pad onto the stamp. Stamp the image onto your paper. Now dump a generous (this is no time to be stingy) amount of embossing powder onto the image (can be spooned on). Dump the embossing powder back into its container. Now STOP and look at the image. Are there a lot of loose pieces of powder around the image? If so, there are 2 solutions (one of which it's too late for but you'll know next time):
Take a very small paint brush and carefully "sweep" the little fritters off the card. Be careful not to touch the image with the brush as the ink is still wet.
Next time, use an anti-static powder before putting ink to paper.
For more information on embossing and anti-static powder go to the embossing page.
What Glue Should I Use?
The easy rule of thumb is use light glue for light items and heavy glue for heavy items.
Glue Stick
Paper
Perfect Paper Adhesive
Dried Flowers
Paper
Mica chips (Perfect FX)
Aleene's Tacky Glue
Brass charms
Beads
Caulk
Dimensional elements (holds shape)
Spray Adhesive
Feathers
Loose-weave ribbons
How to Use a Stamp Positioner
A stamp positioner is an acrylic 2 piece tool consisting of an "L" shaped piece and a flat plate. You stamp on the acrylic plate with it seated firmly against the 2 sides of the L. Move the L away and line the image on the plate over the card exactly where you want the image to be. Move the L into place. Remove plate and stamp. Be sure you look straight down through plate.
Use for lining up elements such as borders and letters.
Use to stamp over an image that has become washed out from watercoloring.
Use it for those times when you stamp an incomplete image
Watercoloring with Chalk??
Yes! It looks great and is very easy. Start with a Dove Blender Pen (available at most stamping stores) and make sure that the tip is clean and moist. "Draw" on a piece of chalk (cheap chalks will do, no need to buy expensive ones) and then draw on your matte paper. That's it! The more chalk on the pen, the darker the image. To clean the tip of the pen just draw on a piece of clean paper until no more color appears on the paper. You can buy replacement tips and refills of the fluid so don't worry if your tip gets very dirty (which it will). A nice thing about this technique is that you don't have to seal the chalk after coloring. The fluid in the pen seals it.
Why Does my Vellum Curl When I Emboss It?
You're holding your heat too close to the vellum. Hold the embossing tool back about 4 or 5 inches. Yes, it takes longer but your card will look better.
I Over- or Under-ink My Stamps
The easiest way to cure this is to turn the stamp over (so that the rubber is up) and then to tap, tap, tap the ink pad onto it. This way you can see how much ink you're getting on the rubber and you'll see if you miss any spots.