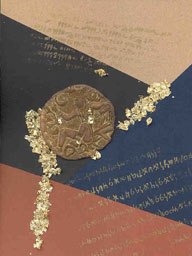 This seal was made by stirring a gold color of Pearl-Ex into a melted clear glue stick and then stamping the rubber stamp covered with gold pigment ink into it.
Stamper: Christine Cox

Stamp Credit: All Stamps from Toybox

Note: The gold is called Gold Flakes and is made by Arnold Grummer for paper making. The 4 different colors in the background were made by simply cutting 4 pieces of cardstock each into 4 pieces and then mix and matching them like a jigsaw puzzle.